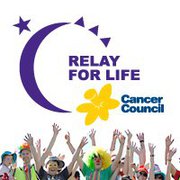 I'm supporting Relay for Life to raise funds and awareness to help fight cancer at this year's Hobsons Bay's annual Relay for Life.  It will be held at the Pines Scout Camp, Altona Road, Seaholme from 4.00pm on Saturday, 3rd March to 10.00am on Sunday, 4th March.  I encourage everyone to participate irrespective of age or ability.  Cancer affects us all.
Relay for Life has been running in Hobsons Bay since 2006 and has seen teams of locals raise money to fund cancer research, programs to help reduce the risk of cancer and provide support services for people in need.
The event is also an opportunity to celebrate cancer survivors, remember loved ones lost to cancer and support those fighting the disease.
As well as the relay, there will be live entertainment, activities and special ceremonies that honour people's experiences with cancer.
To find out more and to get involved go to www.relayforlife.org.au