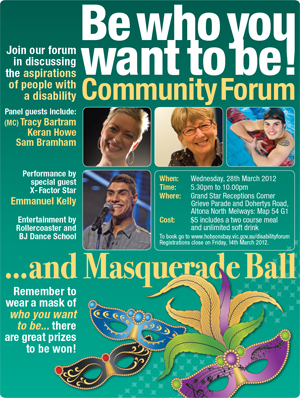 As part of my Mayoral Program, the Hobsons Bay City Council is holding a forum to discuss the aspirations of people with a disability. Outcomes of this forum will inform a future Disability Strategy for the Council.
Panel guests include Tracy Bartram, Keran Howe and Sam Bramham, and there will be a special performance by Emmanuel Kelly. We'll also have other entertainment on the night will from Rollercoaster and BJ Dance School.
When: Wednesday, 28th March 2012
Time: 5.30pm to 10.00pm
Where: Grand Star Receptions Corner of Grieve Parade and Dohertys Road, Altona
Cost: $5.00 Includes a 2 course meal and unlimited soft drink
Bookings are essential and please ensure you RSVP by Wednesday, 14th March 2012.