Lots of local events in Melbourne's West this summer!
Melbourne's west is the place to be this summer, so no matter where you live be sure to come and enjoy the events the local councils are supporting!
Movies by the Bay – Altona and Williamstown (every Friday in January 2014)

Free Dog's Breakfast (Saturday 4 January 2014)

Wildlife Display (13 – 17 January 2014)

Midsumma comes to Melbourne's West – Go West!  (12 January 12 to 2 February 2014)

Australia Day in Altona (Sunday 26 January 2014)

Summer Sounds in Altona and Williamstown (every Sunday in February)
See below for more details.
Fre

e Movies by the Bay
Outdoor cinema returns to Hobsons Bay at two waterfront locations. Enjoy great films under the stars at this popular free family event series. Bring your own picnic or stop at a local restaurant/cafe/take away shop before the screening and enjoy a delicious dinner.
Logan Reserve, Pier Street, Altona
Friday, 3rd January Despicable Me 2 (PG)
Friday, 17th January Smurfs 2 (G)
Friday, 31st January Turbo (G)
Commonwealth Reserve, Nelson Place, Williamstown
Friday, 10th January Iron Man 3 (M)
Friday, 24th January Red Dog (PG)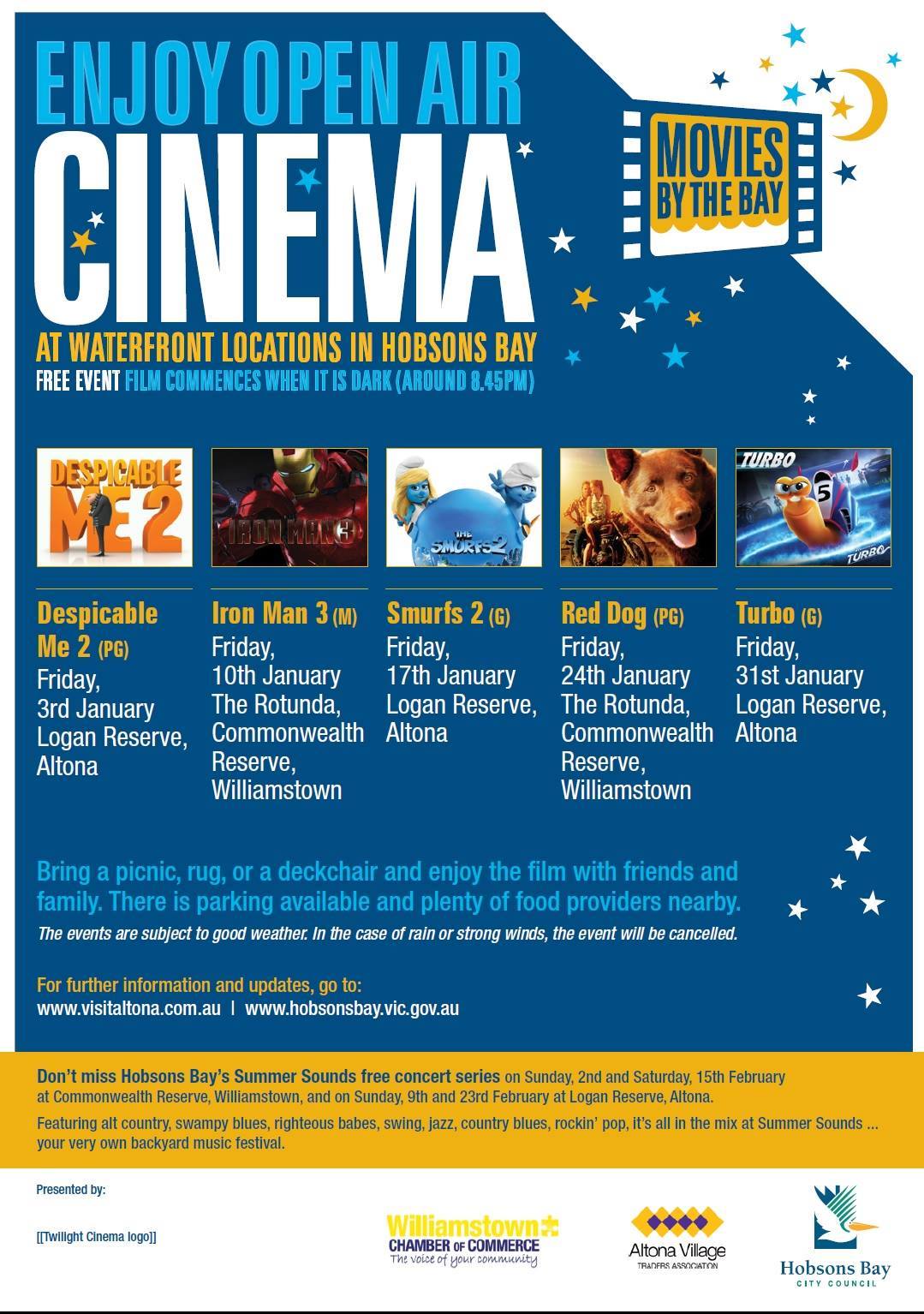 Free Dog's Breakfast!
Free breakfast for dogs and their owners.  Special guests include the Snake Bus, local vets offering discounted microchipping, and The Connies.
Altona Doggy Beach – Altona Road, Seaholme Saturday 4th January from 8.30am to 10.30am.
Wildlife Displays
Get up close to snakes, frogs, lizards and stick insects!
Altona North Community Library (13-15 January) and Altona Library (16-17 January)
and more – see attached flyer for details.
Midsumma comes to Melbourne's West – Go West!
GoWest collectively brings together local organisations and artists supporting and representing the GLBTIQ (Gay, Lesbian, Bisexual, Transgender, Intersex, Queer) communities in the western region of Melbourne. Whether you live or work in the west, or have been looking for an excuse to visit and explore, everyone is invited to celebrate the rich diversity of our community.
Hobsons Bay City Council proudly supports the GLBTIQ community and has been a officially celebrating Midsumma with GOWEST since 2009.
Go West events include:
Intersexion Documentary Screening (documentary about intersex people) – 13 January
WESTANDPROUD (Community construction of an official rainbow crossing) – 15 January
How I found my NICHE (Speakers will share their insights about LGBTIQ communities) – 16 January
Radicalism (Artists and activists from across Australia examine radicalism, resistance and defiance associated with questions of gender and sexuality) – 17 January to 23 February
Ghosts of the Old City Williamstown (Explore Williamstown's secret spooky haunts) – 17, 18, 19, 24, 25, 26 and 31 February and 1 and 2 February)
Rainbow Party (Youth party at the Youth Resource Centre in Hoppers Crossing) – 17 January
Author Talk 'f2m: the boy within' (Author discusses her book about transmen) – 18 January
Just Dance (dance based fitness class for young people followed by a bbq and fun activities) – 18 January
Wyndham Arvo Tea (share a cuppa rainbow style and celebrate Midsumma in Wyndham – yummy food, inflatable art, music etc) – 18 January
AIDS Memorial Quilt Making Weekend (help create a quilt in memory of a loved one) – 18-19 January
Free Sailing Day (Crew up or kick back on land and enjoy live music and drinks with fellow GLBTIQ sailors and landlubbers) – 19 January
A Perfect Midsumma Afternoon (Enjoy a perfect mid summa afternoon with friends, a G&T and croquet – very civilised!) – 19 January
Rainbow Families Bedtime Story Time (enjoy a special evening story time to celebrate diverse families.  Wear your pyjamas, bring your teddies and enjoy being with other queer families) – 20 January
LGBTIQ Equality Initiatives in Local Government (learn about what local government is doing for our GLBTIQ community and discuss ways we can improve) – 23 January
Queer as Anything: Open Mic in the West (Interested in trying stand up or another type of 5 to 7 minute performance?) 24 January
Finucane & Smith's Caravan Burlesque… Goes West! (Burlesque at it's best) – 24, 25 and 31 January, and 1 February.
One Day Camp-Fest (Enjoy local music in Footscray with your friends) – 27 January
Team Melbourne Midsumma Sports Day 2014 (try your hand at a range of different sports and activities including dancing, tennis, volleyball, running, swimming and much more) – 1 February
Out at Twighlight (enjoy an afternoon of free entertainment in Sunshine featuring the Melbourne Gay and Lesbian Youth Chorus) – 1 February
PRIDE MARCH (march with other western suburbs GLBTIQ people as part of the Go West group!) – 2 February
NO H8 Campaign Australia (the infamous marriage equality campaign comes down under for the first time – and to Newport!) – 15 February
For more details of the events and to book tickets (even for free events), please visit – http://midsumma.org.au/program/gowest
Australia Day in Altona
Are you looking for something to do on Australia Day? Why not come to Altona with your family and friends to soak up all that Altona has to offer including:
– Outdoor market
– Cobb & Co Coach Rides
– Camel rides
– Roving entertainment
– Free children's activities (face painting, sand art etc)
– Altona Homestead Australiana Exhibition with music & food
– Devonshire Tea in the park (Country Women's Association)
– Great Aussie Sausage Sizzle
– Live music all day (2 stages)
– Great outdoor cafes
– Aussie Car Display
– Fireworks at 9pm
Proudly supported by the Hobsons Bay City Council and organised by the Altona Village Traders Association.
Altona Beach, Sunday 26th January from 11am to 9pm.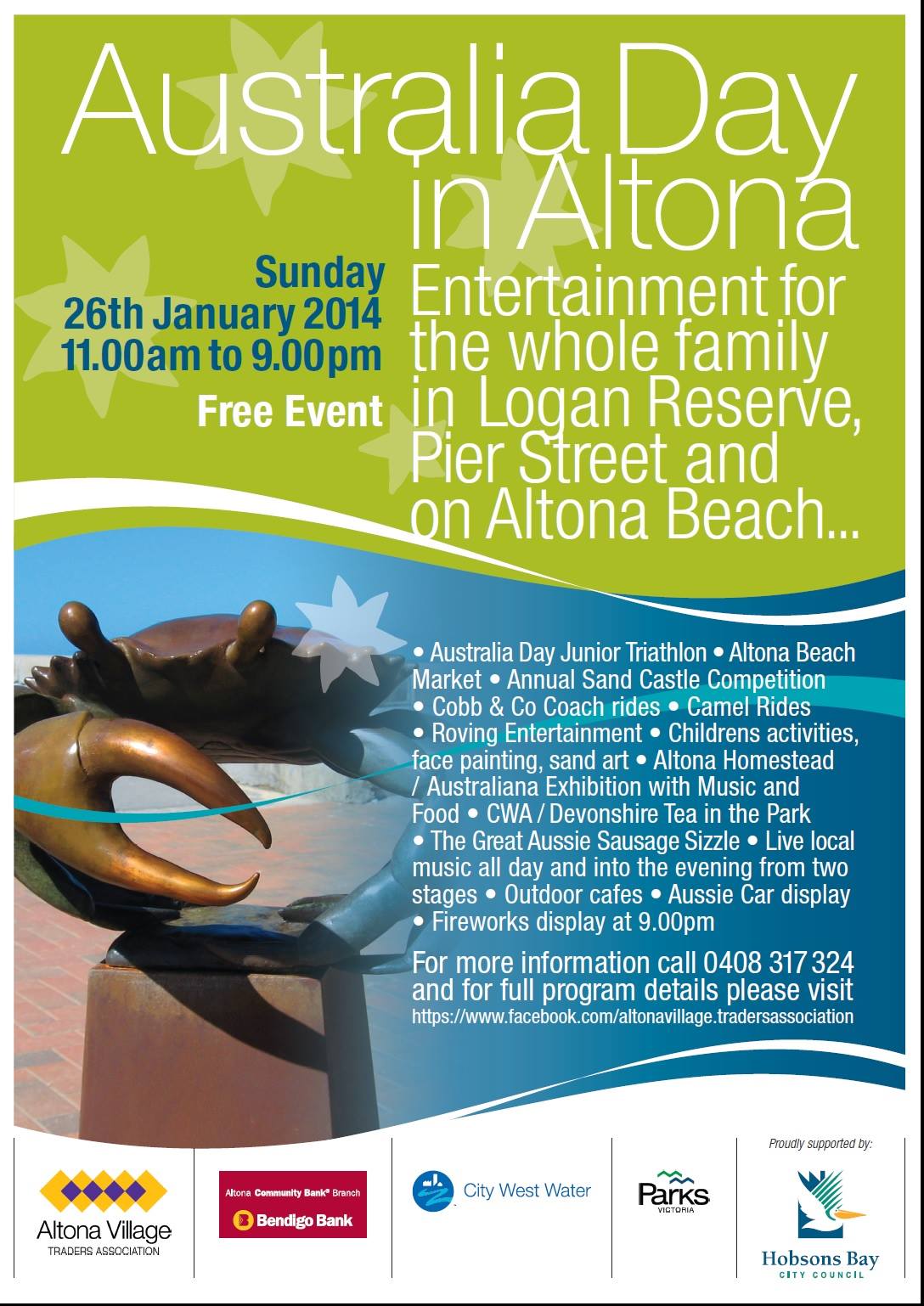 Summer Sounds – every Sunday in February!
We have lots more free and fun things to do in Altona and Williamstown over summer!  The council proudly presents our annual Summer Sounds series at Logan Reserve, Altona (across the road from the pier) and Commonwealth Reserve, Williamstown. We have something for everyone, including Swing, Jazz, Blues, Folk, Funk, Rock, Soul and Country!
All these events are FREE, so bring your family and friends, a picnic, rug and deck chairs and enjoy! We also have lots of lovely cafes and restaurants nearby.