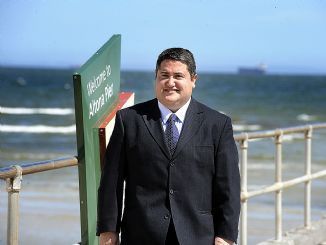 The works on Stage One of the Cherry Lake upgrade has finally been finished.  The works included a new toilet, sensory garden, car park and landscaping.  The new toilet at Frazer Reserve, Seaholme is also now operational.
The new Williamstown Library is expected to be finished in the later half of this year.  Works are progressing well and it will no doubt be a popular place for residents to visit.  The new all accessibility access between the library and town hall is very impressive too – I'm looking forward to chairing a meeting of the city's Disability Advisory Committee at the old Williamstown Council Chambers.
Altona Sports Precinct Master Plan has been adopted and the council is allocating funds in every budget to implementing it.  The area includes the following clubs/facilities:
– Altona Hockey Club
– Altona Little Athletics Club
– Altona Football Club
– Altona Cricket Club
– Altona City Soccer Club
– Altona Tennis Club
– Altona Girl Guides
– Altona Youth Hall
– Altona Bowling Club
– Altona Dog Obedience Club
The plans can be accessed via the council website.
For more information about the Altona Central Sports Precinct Plan call the council's Recreation Department on 9932 1000.
The council will start works to upgrade Paisley Park in Altona North in the next week or so. The works include:- provision of underground drainage,
– installation of electrical conduits for future lighting works,
– construction of a 2.5m wide concrete path (pedestrian and cyclist),
– concrete kerbing along the existing access road to south of the Badminton Stadium,
– construction of 55 car parking bays, and
– asphalting the existing concrete road.
Other recent and current works in Hobsons Bay include:
– the Laverton Community Hub,
– the construction of new footpaths in Altona Meadows/Laverton (Cr John Hogg's footpath program),
– works at the Federation Trail in Brooklyn,
– consultation with residents and traders for improvements to Vernon St, Spotswood,
– Point Cook Road (the council has provided some funding for this upgrade despite Point Cook Road being owned ad managed by the State Government)
– Altona Boat Ramp
– Newport Early Years Centre
– extension of the Seabrook Kindergarten
The good news is there is still lots more that the council is doing locally!  Please visit the council's website to learn more –
www.hobsonsbay.vic.gov.au